Whether you are a Marvel fanatic or not, recognizing the power of Infinity Stones' influence and control is the essential aspect of existence in this comic book reality. Once time, space, reality, mind, power, and soul are combined, their Wielder can be nearly unstoppable. Each stone has its specific effect on life aiding a superhero in their quest for good (or bad if you are Thanos).
Clinical serums have a parallel universe in skincare influencing healthy skin function and aiding skin to overcome specific skin conditions. Targeting what the skin needs, serums are powered by concentrated, active agents absorbing quickly into the skin. Determined by the primary active agent, functional serums benefit essential skin function. Whether skin needs assistance with hydration, defense, renewal, protection, or structure, serums swoop in to save the day! Lira Clinical offers a comprehensive variety of powerful serums addressing your customized skin health. Let's look at the superhero serum line-up to find your serum with infinite possibilities.
HYDRATION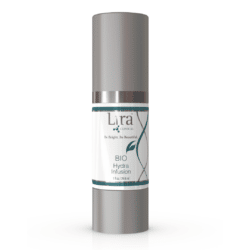 BIO Hydra Infusion's superior hydrating benefits utilize hyaluronic acid and so much more! This lightweight, silky infusion glides on skin with nourishing botanicals such as silver ear mushroom extract and arnica montana. Four different plant stem cells provide skin restoration and repair, perfect for dry/dehydrated and post-procedure skin conditions. BIO Hydra Infusion's hydrating versatility is easily paired with your favorite crème or can be used by itself depending on how much moisture the skin needs.
DEFENSE
Balancing the microbiome to the rescue! The Captain America of Lira Clinical serums, BIO Hydra C Serum is the must-have in everyone's home care program. To be used universally on any skin type, the exclusive combination of four forms of vitamin C, MASQ-techTM, topical probiotics, and plant stem cells protects against free radical invasion, improves skin immune activity, and brightens skin with superpower strength.
RENEWAL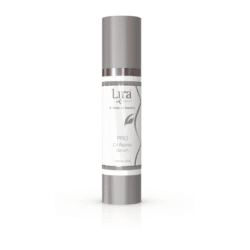 Just like Ironman's suit, our skin's battery needs a charge. As skin ages, our cell turnover can slow down. Recharge and renew skin refining fine lines, brightening age spots, and preventing acne breakouts with PRO C4 Retinol Serum. The powerhouse couple of vitamin A and C work together offering real results in skin correction.
PROTECTION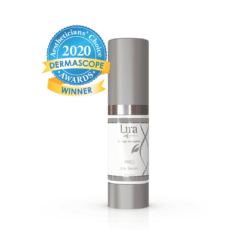 Lira Clinical is known internationally for its amazing brightening benefits. Striving for healthy melanin management in all skin types, PRO Lite Serum protects against sporadic pigment distribution. Got age spots? That one sun damaged area that just will not go away? Correct and maintain even skin tone with sustainable biotechnology ingredients. PRO Lite Serum suppresses skin when it gets angry with inflammation and imbalanced hormones so that hulk of an age spot doesn't surface.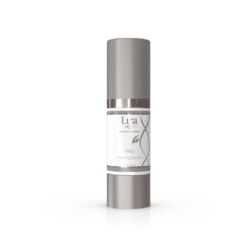 Packed with powerful peptides, PRO Firming Serum protects skin from future fine lines and wrinkle formation. Tightening, brightening, and firming skin, this potent serum brings the bling with rejuvenating colloidal silver and gold combined with hexylresorcinol restoring healthy skin function.
STRUCTURE
MYSTIQ Intense C15 Booster promotes healthy collagen production with potent and powerful BV-OSC, and lipid-soluble vitamin C. This versatile serum also boasts brightening benefits to jumpstart skin on its way to correction and in-clinic conditioning treatments.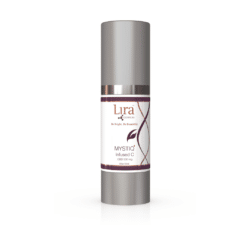 The Power EntourageTM ingredient technology in MYSTIQ Infused C encourages healthy collagen and elastin production, strengthening overall skin structure. Exclusive MASQ-techTM and clinical cannabidiol provide the Lamborghini engine driving this corrective serum into the skin for unparalleled results.
So, which one do you choose? Lira Clinical serums are powerful by themselves but also work beautifully together as a team. These guardians of our skin provide your daily home care program with the power of active vitamin C, peptides, retinol, and MASQ-techTM to fight against the villains of aging, acne, pigment, and rosacea.